Bearing is an important part of modern machinery and equipment. Its main function is to support the mechanical rotating body in order to reduce the mechanical load friction coefficient of the equipment in the process of transmission. Its accuracy, performance, life and reliability play a decisive role in the accuracy, performance, life and reliability of the host. According to different friction characteristics, bearings can be divided into rolling bearings and sliding bearings.
Rolling bearing
1. Composition of rolling bearing: inner ring, outer ring, cage, rolling body.
Inner ring: Usually fits closely with the shaft and rotates with the shaft.
Outer ring: Usually fitted with the housing of a bearing housing or the housing of a mechanical part for support.
Rolling body: With the help of the retainer, the rolling body is evenly distributed between the inner and outer rings. Its shape, size and number directly determine the bearing capacity.
Cage: evenly separates the rolling body and guides the rolling body to move on the correct track.
2. Types of rolling elements: ball (steel ball), spherical roller (including symmetric type and asymmetric type), cylindrical roller, needle roller, tapered roller, etc.
3. Cage types include: metal cage (low carbon steel or stainless steel, etc.), non-metal cage (bakelwood, plastic, nylon, etc.), non-ferrous metal cage (brass, bronze, aluminum alloy, etc.).
4. Classification of rolling bearing dimensions:
Miniature bearings with nominal outside diameter range D<26mm;
Small bearings with nominal outside diameter range of 26≤D<60 mm;
Small and medium-sized bearings with nominal outside diameter range of 60≤D<120mm;
Medium and large bearings with nominal outside diameter range of 120≤D<200mm;
Large bearings with nominal outside diameter range of 200≤D<400mm;
6 ultra-large bearings with nominal outside diameter 400≤D<2000 mm;
Heavy bearing with nominal outside diameter D≥2000mm;
6. Type of rolling bearing:
Deep groove ball bearing is the most common type, mainly bear radial load, can also bear a certain amount of axial load. Compared with other bearings of the same size, this kind of bearing has low friction coefficient and high limit speed.
(2) Angular contact bearing and angular contact ball bearing of high speed limit, can bear radial load and bearing load and pure axial load. The axial load capacity is determined by the contact Angle.
Thrust needle roller, thrust ball bearing, thrust ball bearing is separated type bearing, contact Angle of 90° can only bear axial load, low limit speed.
(4) Self-aligning ball bearing, self-aligning ball bearing, self-aligning ball bearing has two rows of steel ball, the inner ring has two raceways, the outer ring for the inner spherical shape, with the self-aligning performance, can automatically compensate the shaft deflection deformation caused by the coaxial error. Suitable for parts where support holes cannot guarantee strict coaxiality.
The combined bearing has two or more rolling elements, which are used to bear radial and axial loads or play the role of axial limit.
6. Other bearings: cylindrical, tapered roller bearings, coated bearings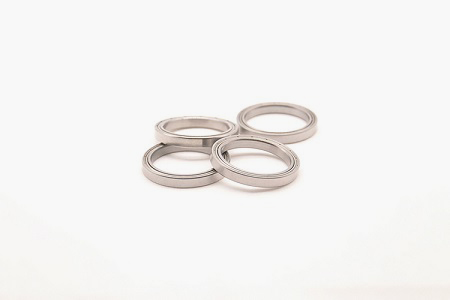 two Notes for bearing use:
Bearings are precision parts and should be used with caution. Even high quality bearings cannot achieve the desired effect if they are not used properly. The use of bearings is noted as follows:
1) Keep bearings and surrounding environment clean
Even tiny dust invisible to the naked eye can adversely affect bearings. Therefore, keep the surrounding area clean to prevent dust from entering the bearing.
2) Use with care
Severe impact on bearings during use can lead to bruising or indentation, which may lead to accidents. In severe cases, it can cause cracks and fractures.
3) Use special bearing tools
The bearing must be disassembled and installed with special tools and cannot be replaced at will.
4) Avoid bearing rust
Sweat may cause rust when handling and placing bearings. Try wearing gloves and be aware of corrosive gases in the environment.